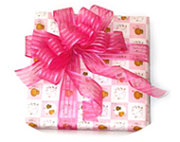 We are an experienced gift wrapping manufacturer and exporter since 1994 in China, mainly specializing in gift ribbon and bows. Our products range includes: Everyday items, Christmas items, floral items, gift packaging/wrapping and custom-made items.
The following items are our main products for your reference:
Polypropylene decorative ribbon series: plain poly ribbons, metallic ribbons, lacquered ribbons, holographic ribbons, iridescent ribbons, printed ribbons, crimped ribbons, embossed ribbons, etc.
Elastic cord series: elastic cord spools, elastic cord on cards, stretch loops, elastic loops, stretch loops with pre-tied bows, elastic loops with metal barbs and butterfly bow-ties.
Drawstring Pouches/Bags: Organza pouches, Satin pouches, Metallic pouches, Velvelt / Velour pouches, Printed pouches, Non-Woven pouches, Burlap pouches.
All kinds of handmade products: curly bows, pull bows, hank bows, butterfly pull bows, star bows, curling ribbon, ribbon eggs, rosette, garland bows, decorative shreds and other relative gift wrapping items.
We provide OEM services. Customers' own designs are welcome. Now, e-mail us for more details.